Calibre 1519
https://fpjourne.com/en/collection/boutique-collection/tourbillon-souverain-boutique-edition
FP Journe
https://fpjourne.com/en
FP Journe
18K 6N Gold case
Diameter: 42 mm
Overall height: 13.6 mm
Dial formed by the blackened 18K rose Gold movement bridges with «Clou de Paris» guilloché, engraved and hand-painted inscriptions, Grand Feu enamel hour dial at 3 o'clock on white Gold
Hands: 5N gilt Steel

Finishing
18K 6N Gold case
Diameter: 42 mm
Overall height: 13.6 mm
Dial formed by the blackened 18K rose Gold movement bridges with «Clou de Paris» guilloché, engraved and hand-painted inscriptions, Grand Feu enamel hour dial at 3 o'clock on white Gold
Hands: 5N gilt Steel

Technical Specifications
Mouvement :
18K rose Gold
Manual winding
29 turns of crown
Dimensions :
Overall diameter :

34.60 mm

Cased-up diameter :

34.20 mm

Overall height :

10.00 mm

Height of winding stem :

3.66 mm

Diameter of stem thread :

S1.20 mm
Balance :
4 inertia weights
Flat Anachron balance spring with Philips overcoil
Pinned stud
Free-sprung
Spring pinned to collet
Amplitude :
0h dial up : > 260°
24h vertical : > 260°
Main characteristics :
Vertical Tourbillon with constant force and dead second
2 position winding crown
Manual winding in position 1
Time adjustment by crown in position 2
Escapement :
15 tooth escape wheel
90° anchor fork
Indications :
Hours and minutes at 3h
Small second at 6h
Power reserve at 12h
Vertical Tourbillon at 9h
Decoration :
High quality
Guilloche Clous de Paris on bridges
Circular Geneva Waves on base plate
Screw heads polished and bevelled
Pegs with polished rounded ends
Case :
Platinum or 18K 6N Gold
Diameter: 42.00 mm
Height: 13.60 mm
Dial :
Dial formed by the 18K rose Gold bridges engraved, painted, and decorated with "Clous de Paris" guilloché with a Grand Feu enamel hour dial at 3 o'clock in 18K white Gold
Number of components :
Mouvement :

230

Cased on leather strap :

260

Jewels :

32
---
At the heart of the movement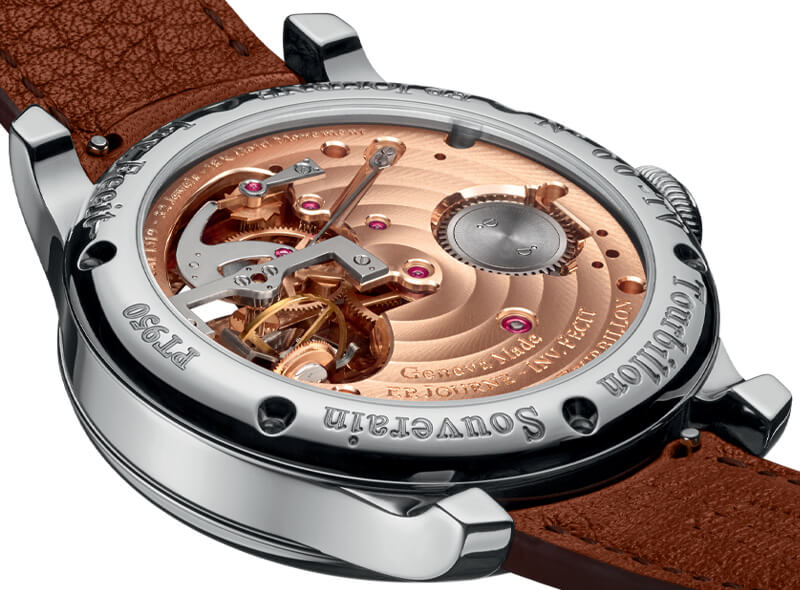 Technical description
Mechanical mouvement with manual winding, 21'600 VPH, Geneva made in 18K rose Gold
About
THE TOURBILLON SOUVERAIN BOUTIQUE EDITION WITH BLACK DIAL ON 18K 6N GOLD CASE IS AVAILABLE ONLY IN THE F.P.JOURNE BOUTIQUES AND ESPACES AROUND THE WORLD.

A New Tourbillon Souverain to Celebrate the 20th Anniversary of the Tourbillon Souverain

The innovative and revolutionary horological creator François-Paul Journe has inspired a generation of contemporary watchmakers with the originality of his creations, his quest for precision, his timeless and immediately recognisable style, and his respect for horological ethics and traditions.

Fascinated by the tourbillon since his youth, François-Paul Journe began to make his first watch when he was 20 - entirely by hand. It was a tourbillon pocket watch. In 1991, he created his first tourbillon wristwatch, selling the very small number of examples to a handful of knowledgeable collectors. In 1999, he launched the first Tourbillon Souverain with remontoir d'égalité in wristwatch form. It was sold by subscription and was much soughtafter by collectors who rival with each other to get on the short list of 20 examples.

The year 2003 saw the birth of the new generation of Tourbillon Souverain, to which François-Paul Journe added natural deadbeat second. Then, to make the watches even more desirable, he produced his haute horlogerie movements in 18k rose Gold, a first in the world of modern mechanical watchmaking.

To celebrate the 20th anniversary of this emblematic wristwatch, F.P.Journe has developed a tourbillon whose cage is vertical, rather than the traditional horizontal cage. "I designed this vertical tourbillon so that the tourbillon's functions remain constant whether the watch lies flat or is placed on its side, and the amplitude is subsequently the same, whether with a deployant clasp lying on the side or with an ardillon buckle lying flat".

This vertical tourbillon with remontoir d'égalité and deadbeat second makes one revolution every 30 seconds. This is faster than the usual time of one minute, making the technical prowess even more visually astonishing. Surrounding the cage, a cone-shaped mirror-polished ring concentrates light, reflecting the tourbillon cage. A second reflector was created on the movement side to provide light around the tourbillon cage. The 4N rose Gold bridges that form the dial are decorated with "Clous de Paris" guilloche with, for the first time, an enamel hour dial at 3 o'clock. The new Tourbillon Souverain also features an 80-hour power reserve at 12 o'clock and small seconds at 6 o'clock; the remontoir d'égalité is placed at 7 o'clock.

Testimony
"From ancient times, humankind has constantly attempted to measure time by dividing it into equal fractions and inventing the notion of isochronism! Only with the arrival of the first mechanical clocks did specialists begin to seek a means of equalising the force reaching the escapement. The balance-spring did not yet exist and the so-called "foliot" balance had an irregular beat due to the arrival of a force varying because of the imperfections of the gearing. At the time, clocks were equipped with just one hand which completed a revolution once every 12 hours, since their degree of imprecision did not permit the measurement of minutes. After the invention of the mainspring, which would enable the construction of table-clocks, 15th century watchmaker Jobst Bürgi had the idea of adding an extra gear representing an independent system wound in short spurts by the mainspring.

The escapement thus ensured a more constant flow and enabled an autonomy of several months: this was the first remontoire or constant-force device!

Later, 17th century Dutch watchmaker Christiaan Huygens invented the balance-spring and the pendulum. These innovations would give both clocks and watches an unprecedented degree of precision timekeeping: the minute hand became widespread and the constant-force device fell into oblivion for around a century. With the arrival of the 18th century, known as the Age of Enlightenment, the high requirements relating to astronomical observations and calculations of longitude for maritime navigation called for ever higher levels of precision. As new technical solutions were found, the seconds hand became a common feature on watches of the period. In England, Thomas Mudge invented a constant-force device for the H.3 marine chronometer, while famous French watchmaker Robert Robin – Watchmaker to the King – also invented one for his precision regulators. Paradoxically, it was in the 19th century that the constant-force device became widely used in the construction of clocks intended for buildings – not to remedy any flaws in the springs (since all these clocks ran by driving-weights), but to isolate the time mechanism from the outside hands. This was because the latter were exposed to strong winds and might disturb the mechanism.

Nonetheless, making a constant-force device was a complex and tedious task, causing it to be almost entirely abandoned in the 20th century, apart from a few rare exceptions: English watchmaker Georges Daniels used it in a tourbillon pocket-watch; his contemporary Anthony Randall built it into a table-clock based on the principle of John Harrison's H.4; and I myself have incorporated it into three tourbillon pocket-watches, a so-called "sympathique" clock and more recently for the very first time in wristwatch form with the first model in the F.P.Journe – Invenit et Fecit – collection, the Tourbillon Souverain.

What is fascinating in the principle of the constant-force device is that each watchmaker who has set out to build one has his own personal interpretation: only the basic idea remains the same."

François-Paul Journe
Technical Specifications
Mouvement :
18K rose Gold
Manual winding
29 turns of crown
Dimensions :
Overall diameter :

34.60 mm

Cased-up diameter :

34.20 mm

Overall height :

10.00 mm

Height of winding stem :

3.66 mm

Diameter of stem thread :

S1.20 mm
Balance :
4 inertia weights
Flat Anachron balance spring with Philips overcoil
Pinned stud
Free-sprung
Spring pinned to collet
Amplitude :
0h dial up : > 260°
24h vertical : > 260°
Main characteristics :
Vertical Tourbillon with constant force and dead second
2 position winding crown
Manual winding in position 1
Time adjustment by crown in position 2
Escapement :
15 tooth escape wheel
90° anchor fork
Indications :
Hours and minutes at 3h
Small second at 6h
Power reserve at 12h
Vertical Tourbillon at 9h
Decoration :
High quality
Guilloche Clous de Paris on bridges
Circular Geneva Waves on base plate
Screw heads polished and bevelled
Pegs with polished rounded ends
Case :
Platinum or 18K 6N Gold
Diameter: 42.00 mm
Height: 13.60 mm
Dial :
Dial formed by the 18K rose Gold bridges engraved, painted, and decorated with "Clous de Paris" guilloché with a Grand Feu enamel hour dial at 3 o'clock in 18K white Gold
Number of components :
Mouvement :

230

Cased on leather strap :

260

Jewels :

32
---
At the heart of the movement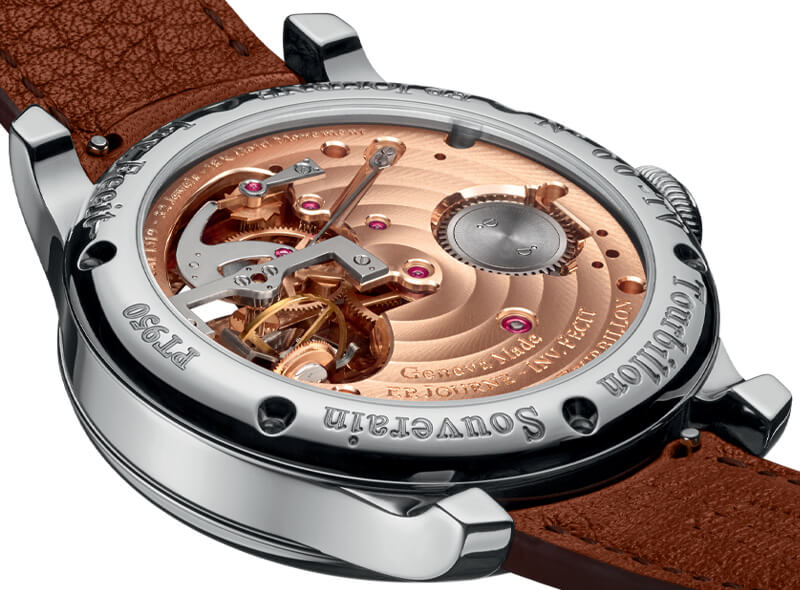 Technical description
Mechanical mouvement with manual winding, 21'600 VPH, Geneva made in 18K rose Gold