Calibre 1504.2
https://fpjourne.com/en/collection/limited-series/vagabondage-i-6n-gold
FP Journe
https://fpjourne.com/en
FP Journe
Limited Series of 68 pieces
Jumping hours and minutes indication by aperture, manual winding
18K 6N Gold Flat Tortue® case
Dimensions: 45.2 x 37.5 mm
Overall height: 7.6 mm
Dial: slate grey, sapphire disc with aperture, outer dial screwed Steel elements
18K 6N Gold folding clasp
Finishing
Limited Series of 68 pieces
Jumping hours and minutes indication by aperture, manual winding
18K 6N Gold Flat Tortue® case
Dimensions: 45.2 x 37.5 mm
Overall height: 7.6 mm
Dial: slate grey, sapphire disc with aperture, outer dial screwed Steel elements
18K 6N Gold folding clasp
Technical Specifications
Movement :
Calibre 1504.2 in 18K rose Gold
Manual winding
21 jewels
Dimensions of the movement :
Overall dimensions :

29.30 x 28.20 mm

Casing-up dimensions :

27.30 x 27.30 mm

Overall height :

5.00 mm

Height of winding system :

2.50 mm

Diameter of stem thread :

S0.90 mm
Balance :
Balance with 16 screws
Flat Anachron microflamed spring
Mobile stud holder
Nivatronic laser-welded to the collet
Pinned GE stud
Amplitude :
12h dial up: 300°
12h vertical: 270°
Principal characteristics :
Straight line lever escapement 15 teeth
Two-position crown
Two barrels in parallel
Indication :
Indication of hours in a mobile window which position indicates the minutes
Decoration :
High grade
Partly circular-grained base plate
Straight Geneva waves on the bridges
Polished screw heads with chamfered slots
Pegs with polished rounded end
Steel components polished and bevelled
Case :
Flat Tortue® shape: 45.20 x 37.50 mm
Height: 7.60 mm
Number of components :
Movement: 168
Cased on leather strap: 189
---
At the heart of the movement
Technical description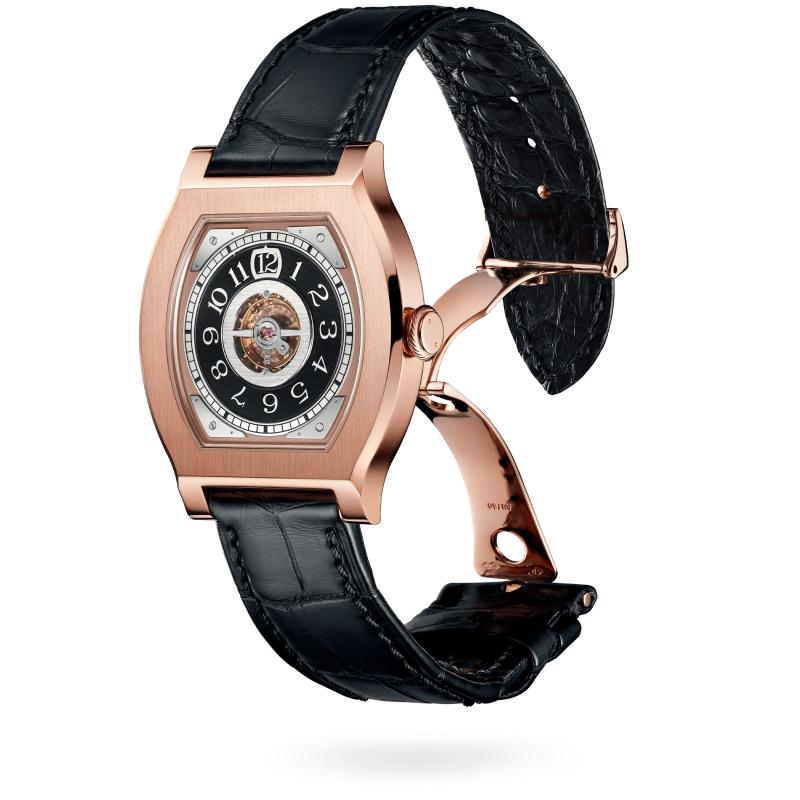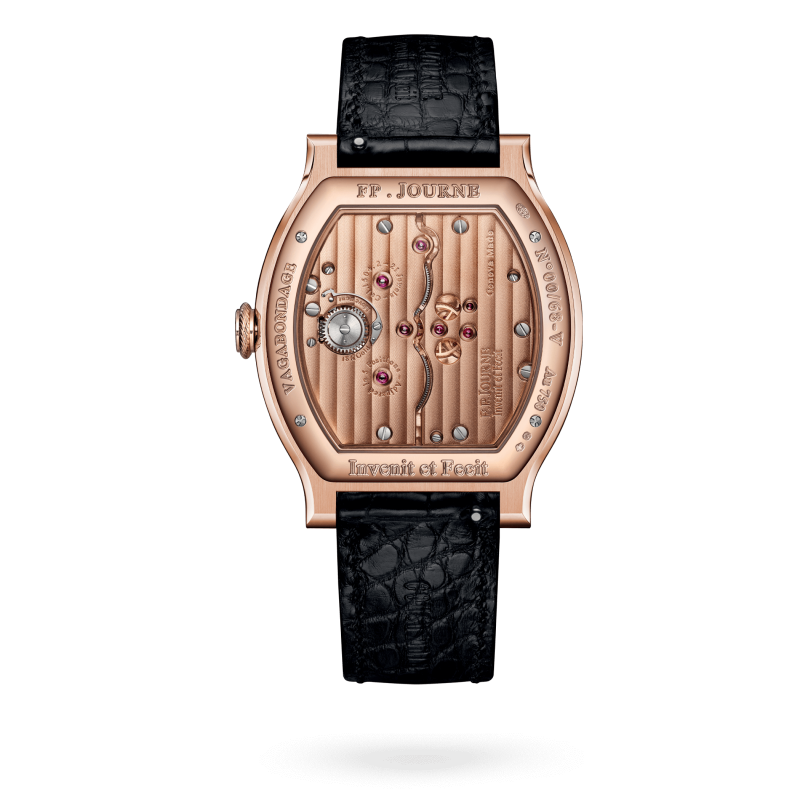 About
Vagabondage I Gold
FINAL CHAPTER OF A TRILOGY STARTED 18 YEARS AGO

Birth of the Vagabondage
In 1997, François-Paul Journe created for a friend a model equipped with a unique automatic movement housed in a round yellow Gold case, named CARPEDIEM. This piece features a dial with a wandering jump hour display around a central exposed balance wheel. Later, François-Paul Journe developed a wandering hours wristwatch with a hand-wound movement, almost mimicking the dial of the CARPEDIEM, though redesigned to fit into a Flat Tortue® case. However, busy with other projects, he decided to leave this model at the prototype stage.

In 2003, François-Paul Journe was contacted by Antiquorum, which was organizing a charity sale for its 30th anniversary for the benefit of the ICM Foundation. They were looking for a "unique piece", within a limited timeframe of six months. Seeing it impossible to come up with something new in such a short time, he decided to rework the Vagabondage prototype. In the end, it is not just one, but three unique "Vagabondage" pieces that were presented: one with a rose Gold case, one in yellow Gold, and one in white Gold, all with Brass movements. For aesthetic reasons, the brand name is completely absent from the dial. The auction having been a real success, François-Paul Journe received many requests to include the model in his production, and to make it available to a wider public of collectors; which he agreed to do, but in very limited production, given the aesthetic dissimilarity with his other creations at the time.

2004: Vagabondage I - Caliber 1504
Vagabondage I is the first timepiece edited in a limited production of 69 Platinum cases with rose Gold movement. It features digital jumping hours in a wandering window which position indicates the minutes. Just as the trilogy offered at auction in 2003, the dial is free of any inscriptions. This particularity will be kept, as well as the use of a hand-wound movement.

2010: Vagabondage II - Caliber 1509
In keeping with the stylistic trademark of its predecessor, the Vagabondage II was cased in a Flat Tortue® case in Platinum, but with a digital hours and digital minutes time display. Given its growing reputation and community, François-Paul Journe decided to produce 68 pieces in 6N Gold, in addition to the 69 Platinum cases. To the series collectors, he offers each owner of a Vagabondage I the opportunity to acquire the same serial number for the Vagabondage II.

2017: Vagabondage III - Caliber 1514
In 2017, the last series appears, coupled with a world first: The Vagabondage III features a digital hours and digital seconds display. This function has never been developed in watchmaking due to its demanding complexity. The Vagabondage III is limited to 68 pieces in 6N gold, in addition to 69 in Platinum. Once again, François-Paul Journe offers the first allocations to the owners of the Vagabondage II bearing the same number.

2022: Vagabondage I Gold - Caliber 1504.2
To complete the Gold trilogy, F.P.Journe presents this last iteration, which is however not an exact copy of the Vagabondage I Platinum introduced in 2004. Pointing to a gap of nearly 18 years, the Vagabondage I Gold features an updated movement, reference 1504.2, still manually wound, and a 45.2 x 37.5 mm case. As François-Paul Journe says: "The first Vagabondage can be considered as a prototype at the time. We now have the experience to make a better, more reliable caliber and so the movement is a new and more updated movement compared to the first attempt. The first was calibre 1504 and this new one is 1504.2."
As with the previous Vagabondages, this model will be on application, with priority given to to collectors with matching serial numbers of the Vagabondages II and III in Gold.
Technical Specifications
Movement :
Calibre 1504.2 in 18K rose Gold
Manual winding
21 jewels
Dimensions of the movement :
Overall dimensions :

29.30 x 28.20 mm

Casing-up dimensions :

27.30 x 27.30 mm

Overall height :

5.00 mm

Height of winding system :

2.50 mm

Diameter of stem thread :

S0.90 mm
Balance :
Balance with 16 screws
Flat Anachron microflamed spring
Mobile stud holder
Nivatronic laser-welded to the collet
Pinned GE stud
Amplitude :
12h dial up: 300°
12h vertical: 270°
Principal characteristics :
Straight line lever escapement 15 teeth
Two-position crown
Two barrels in parallel
Indication :
Indication of hours in a mobile window which position indicates the minutes
Decoration :
High grade
Partly circular-grained base plate
Straight Geneva waves on the bridges
Polished screw heads with chamfered slots
Pegs with polished rounded end
Steel components polished and bevelled
Case :
Flat Tortue® shape: 45.20 x 37.50 mm
Height: 7.60 mm
Number of components :
Movement: 168
Cased on leather strap: 189
---
At the heart of the movement
Technical description