Calibre 1300.3
https://fpjourne.com/en/collection/boutique-collection/boutique-edition-automatique-lune
FP Journe
https://fpjourne.com/en
FP Journe
18K 6N Gold case
Diameter: 40 or 42 mm
Overall height: 10.7 mm
Dial: blackened guilloché Silver
Hands: 5N gilt Steel
Finishing
18K 6N Gold case
Diameter: 40 or 42 mm
Overall height: 10.7 mm
Dial: blackened guilloché Silver
Hands: 5N gilt Steel
Technical Specifications
Indications :
Centre hours and minutes
Small seconds at 4:30
Large date
Power-reserve indicator at 9h00
Moon phase
Dimensions :
Overall diameter :

34.60 mm

Casing-up diameter :

30.40 mm

Overall height :

5.90 mm

Height of winding stem :

3.10 mm

Diameter of stem thread :

S0.90 mm

Case diameter :

40.00 mm

Overall thickness :

10.60 mm
Characteristics :
In-line lever escapement, 15-tooth wheel
Balance with 4 inertia weights
Flat Anachron microflamed spring
Mobile stud holder
Free-sprung balance
Virolage laser Nivatronic
Pinned GE stud
Three-position crown Slipping mainspring
Off-centre winding rotor
Winding speed :
on rotator:
274 clockwise revolutions/24 hours (without mainspring slipping)
Characteristics :
Uni-directional automatic winding
Date setting by turning crown in opposite ways (position 2)
Time setting with crown in position 3
Instantaneous date change
Balance :
Inertia: 10.10 mg*cm2
Angle of lift: 52°
Amplitude :
12 h dial up : 280°
90 h dial up : 220°
Finish :
High grade
Circular stripes on the bridges
Baseplate partly circular grained
Gilt engravings
Polished screw heads with chamfered slots
Pegs with polished rounded ends
Steelwork with polished chamfers
Number of parts :
Movement 271
Cased up with strap 295
---
At the heart of the movement
Brevet - EP 1 760 544 A1
Technical description
(1) 22K Gold rotor with uni-directional winding
(2) Large capacity mainspring barrel
(3) Precision-adjustment weights
(4) Full-size free-sprung chronometer balance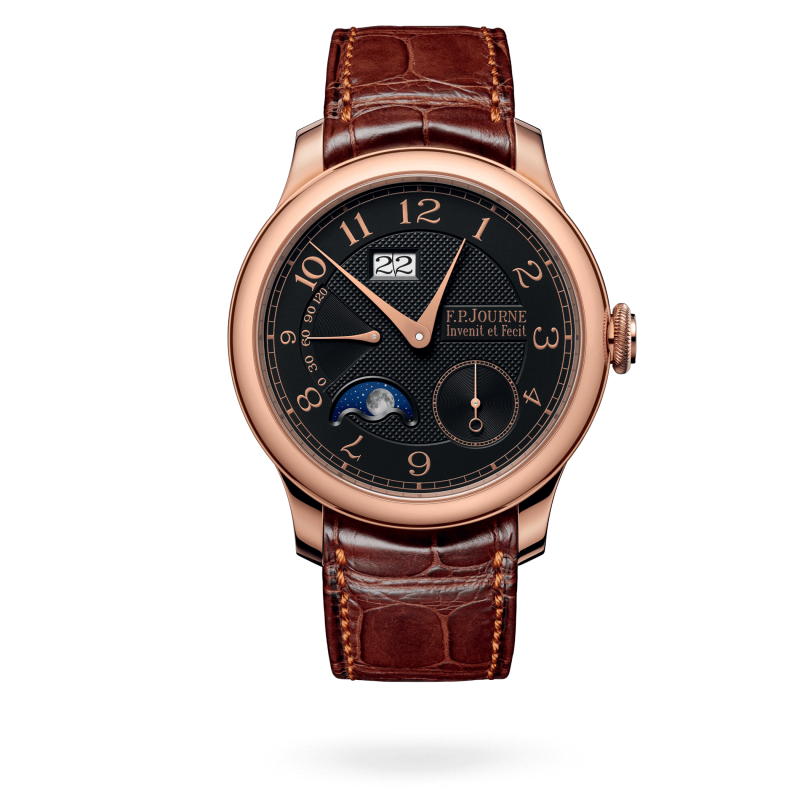 About
THE BOUTIQUE EDITION WITH BLACK DIAL ON 18K 6N GOLD CASE IS AVAILABLE ONLY IN THE F.P.JOURNE BOUTIQUES AND ESPACES AND FOR ALL F.P.JOURNE MODELS, APART FROM THE STRIKING WATCHES.

F.P.JOURNE PRESENTS THE NEW AUTOMATIQUE LUNE: Perfect combination of balance and aesthetics with enlarged date and moonphase for optimal readibility.

The NEW F.P.JOURNE AUTOMATIQUE LUNE has a mechanical movement with automatic winding, manufactured in 18K rose Gold, built on the exclusive Calibre Octa 1300.3. It has made its mark as the first automatic movement with a power reserve sufficient to insure precision timekeeping for over five days or 120 h (EFFECTIVE power reserve: 160 h ± 10 h). It is wound unidirectionally by the exclusive off-centre F.P.JOURNE ROTOR IN 22K 5N Gold, using A SELF-LOCKING BALL BEARING SYSTEM for unequalled efficiency. EVERY INFINITESIMAL MOVEMENT OF THE WRIST IS THUS MAXIMALLY EXPLOITED FOR AN OPTIMISED WINDING OF THE WATCH. THE VARIABLE INERTIA BALANCE WHEEL ENSURES AN OPTIMUM YIELD THAT OFFERS AN IRREPROACHABLE STABILITY.

The new F.P.JOURNE Automatique Lune expands on the original formula by adding a larger date aperture (4.7 x 2.6 MM) and a revisited moon in sapphire. The guilloche Clou de Paris Silver dial surrounded by blue printed numerals is in harmony with the long teardrop-shaped blued Steel hands and the moonphase. Finally, the new Automatique Lune is fitted with a retrograde power reserve indication with a 120-hour scale and a larger crown with F.P.Journe's distinctive silk-rope motif, tying together the aesthetic balance of the piece.

The moonphase complication offers a link to ancient times, when the full moon was the only source of light during the night. While today we no longer depend on moonlight for navigation, the moonphase remains one of the most poetic of all complications, giving an alternative perspective of the passage of time.

A SPECIFIC WHEEL TRAIN ALLOWS PRECISE MOON PHASE INDICATIONS FOR THE AUTOMATIQUE LUNE. ADJUSTING THE INDICATIONS IS DONE VIA THE CROWN, WHICH MAKES IT VERY EASY TO USE.
Testimony
Calibre OCTA

A horological ideal

"The construction of the Octa calibre has less powerful ties with horological history than do the constant-force device or resonance models, but it symbolises an horological ideal of giving timekeepers the highest possible degree of precision and autonomy!

One can indeed note the fact that if church clocks are placed so high, in addition to enhancing visibility, it was mostly because it often took an entire month for the driving-weights to drop the length of their cords. Numerous systems were invented to increase the operating duration of timekeeping devices, meeting with various degrees of success. Given the small volume of a wristwatch, the size of the mainspring was automatically limited. Watchmakers therefore discovered the trick of adding an extra wheel to the customary geartrain in order to extend the duration of its development. Unfortunately, actually using this system, even with a stronger spring, led them to observe that the level of energy actually reaching the balance remained low. To compensate for this, they fitted a smaller balance using less energy, but which was also less stable. It is therefore not unusual to find that some watches able to run for several days display an extremely unpredictable level of precision.

This challenge was a powerful source of motivation! I then imagined that the best and the most obvious means of extending the running duration would be to extend the capacity of the spring development. The difficulty lay in integrating it on the same level as the gear-train and the escapement, given its stability: 1 metre and 1 millimetre thick. Thanks to the low torque of this spring, I could achieve extremely fast automatic winding (one and a half hours on a Chappuis cyclotest for over 5 days' running).

Once the challenge of autonomy was thus successfully met with this automatic winding calibre, I knuckled down to the second challenge of managing to insert various complications into that same movement: power reserve with large date display, fly-back chronograph with large date display, retrograde annual calendar, etc… and of doing so while maintaining an identical size for all models.

Three years of research and development were required before this automatic winding movement that is unique in the world could be presented to the public."

François-Paul Journe
Technical Specifications
Indications :
Centre hours and minutes
Small seconds at 4:30
Large date
Power-reserve indicator at 9h00
Moon phase
Dimensions :
Overall diameter :

34.60 mm

Casing-up diameter :

30.40 mm

Overall height :

5.90 mm

Height of winding stem :

3.10 mm

Diameter of stem thread :

S0.90 mm

Case diameter :

40.00 mm

Overall thickness :

10.60 mm
Characteristics :
In-line lever escapement, 15-tooth wheel
Balance with 4 inertia weights
Flat Anachron microflamed spring
Mobile stud holder
Free-sprung balance
Virolage laser Nivatronic
Pinned GE stud
Three-position crown Slipping mainspring
Off-centre winding rotor
Winding speed :
on rotator:
274 clockwise revolutions/24 hours (without mainspring slipping)
Characteristics :
Uni-directional automatic winding
Date setting by turning crown in opposite ways (position 2)
Time setting with crown in position 3
Instantaneous date change
Balance :
Inertia: 10.10 mg*cm2
Angle of lift: 52°
Amplitude :
12 h dial up : 280°
90 h dial up : 220°
Finish :
High grade
Circular stripes on the bridges
Baseplate partly circular grained
Gilt engravings
Polished screw heads with chamfered slots
Pegs with polished rounded ends
Steelwork with polished chamfers
Number of parts :
Movement 271
Cased up with strap 295
---
At the heart of the movement
Brevet - EP 1 760 544 A1
Technical description
(1) 22K Gold rotor with uni-directional winding
(2) Large capacity mainspring barrel
(3) Precision-adjustment weights
(4) Full-size free-sprung chronometer balance